Frequently Asked Questions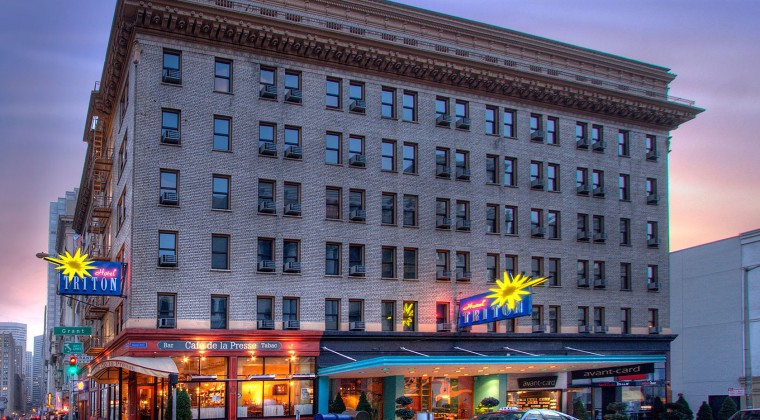 General
All bookings require a valid credit/debit card at the time of check in.
What is check in/check out time?
Check in is 3pm/ checkout is 12 noon.
Is there a resort fee?
No, we do not charge a resort fee.
Do you allow smoking on property? In the rooms?
We are a 100% non-smoking hotel.
How much do you charge for high speed/wifi Internet access?
Complimentary Basic Wi-Fi for all hotel guests.
Do you have a fitness center? What kind of equipment does it have? What are the hours?
Yes, we have a 24-hour free workout facility featuring treadmill, stationary bikes and free weights.
Do you offer room service? What are the hours?
Room service is provided from the hotel's restaurant Café de la Presse; hours are from 7:30am-9:30 pm on weekdays, and 8:30am-9:00pm on weekends.
Do you have a business center?
Yes, we have a 24-hour business center available with data ports and working space (nominal fee). Printing, fax, copy services are available 24-hours though the Front Desk. (nominal fee).
Do you have a pool?
No we do not have a pool on property. Guests who wish to go for a swim should contact the concierge for local facilities.
Transportation/Directions
How do I get to the hotel?
Please see our Maps & Directions page.
Do you offer free shuttle service from the airport?
We do not offer a complimentary shuttle service. Please see our Maps & Directions page or contact the concierge for transportation assistance.
What are your cross streets?
We are located on Grant St and Bush St.
Do you have onsite parking? How much is parking? Is it included in my room rate?
Yes, we offer valet parking at the hotel for $54 per vehicle per night with in and out privileges. The parking charge is an additional charge to the room rate and is not included unless otherwise noted in the package.
Reservations
Will your rooms allow rollaways/cribs/playards? Is there a charge?
Some rooms accommodate rollaway beds, available for a $25 fee. Cribs are free of charge.
I booked on a website other than the hotel website and I need to make a change to my reservation. How do I do this?
You need to contact the channel through which you made your reservation.
What is your cancellation/deposit policy?
We require a credit card at the time of booking. You must cancel by 3 p.m. local hotel time two days before your scheduled arrival to avoid a charge of one night's room and tax to your card. Please note that for special rates, packages and certain seasons, this policy is subject to change.
What is the minimum age requirement to check into the room?
Special rules may apply for guests under the age of 18. This varies by hotel so please contact the hotel for further information prior to making a reservation.
Is my ID/passport required at check in?
We do require presentation of a valid government-issued identification at the time of check-in.
Do you have accessible rooms?
Yes, we have accessible rooms. These rooms include modified bathtubs with bars and added facility.
Do you have an early departure fee?
Yes, an early departure fee in an amount of up to one night's room and tax may apply.
Restaurant
What are the hours of the restaurant/bar/lounge?
Hours for dining in Café de la Presse are:
Breakfast Monday - Friday 7:30am - 10:00 am, Saturday - Sunday 8:00am - 11:30am
Brunch Saturday - Sunday 11:30am - 4:00pm
Lunch Monday - Friday 11:30am - 2:30pm
Dinner Monday - Thursday 5:30 pm – 9:00 pm, Friday - Sunday 5:30pm - 9:00pm
Accounting
I have questions about my bill. Who do I call?
You may contact the hotel at 1-415-394-0500 and ask for the accounting department.
What forms of payment are accepted to pay for my room?
We accept all major credit cards. When you check in to the hotel, we will hold the full room and tax total, plus $100 for any incurred incidental charges. If you are using a debit card, this hold will be released from your account within 7-10 days after check out, depending on your bank's policies and procedures. We do not accept checks. We require a major credit card and matching I.D. for payment at check in.
Pets
Are pets allowed? Are there restrictions for weight, height or types?
Yes, we are a pet friendly hotel. There is a $100 + tax fee per pet, no weight restriction.
Do you have pet free rooms for those with allergies?
Yes, we have designated pet-friendly floors.
Do you have pet sitting or dog walking services?
We do not provide pet sitting or dog walking services on property; however, we have recommendations for outside parties at a charge.
How far do you have to walk to take your pet out?
We are located 1.6 mi from the nearest off-leash dog park (Jefferson Square)
Concierge
I want flowers, chocolates, champagne, gifts sent to the room. How do I do this?
Our concierge team will be delighted to help make special arrangements for you. Contact them directly at 1-415-394-0500.